I recently finished creating a set of twenty professional videos related to the Common Core for Pearson Higher Education's textbook: A Problem Solving Approach to Mathematics for Elementary School Teachers 12/E by Billstein, Libeskind and Lott.   The video series is called Common Core In Action.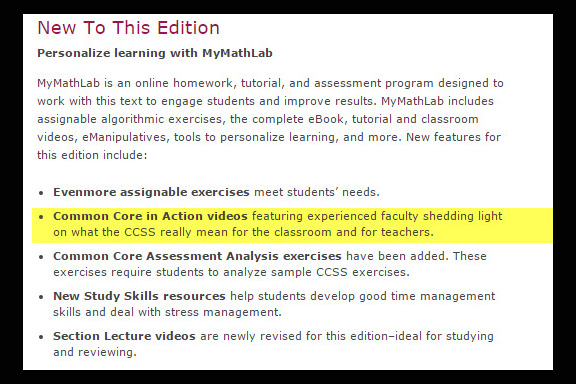 Screenshot taken from http://www.pearsonhighered.com/billstein-12e-info/features.html
Yup, I am the "experienced faculty shedding light on what the CCSS really means for the classroom and for teachers".
I really enjoyed this latest video project for several reasons:
This was one of the first times I was given the freedom to use any platform I wished to use to create the videos.  I chose Hyperstudio 5.0 because I could move objects around the screen during the videos, which is very important when teaching how to use manipulatives for the Common Core.
I was not required to create videos according to a textbook author's wording and style. (These are the types of videos I have mostly created for textbook companies) The Common Core videos were to go with a textbook, but they were not section videos; they were strictly videos to show how the Common Core would have teachers approach particular topics from the textbook.
I got to learn more about the Common Core, and was given a consultant to work with me to make sure the videos were true to representing how the new standards approach the particular areas the videos were covering.
I am trying to acquire permission to show one of the Common Core in Action videos, but since Pearson Higher Education owns all the work I have done for this project, I cannot show anything without their permission.  However, I did want to show you how much more interesting a video can be with interactives, so I created this quick (very quick!) video using Hyperstudio 5.0 and Camtasia Studio to show how you could teach equivalent fractions: Why use Hyperstudio for Videos .
If you would like me to create a video tutorial for you, you can go to my new website at www.ondemandcurriculum.com and contact me.