The future is NOW!
I came across an article a few weeks back on some amazing new technology for games and educational apps called Sifteo Cubes.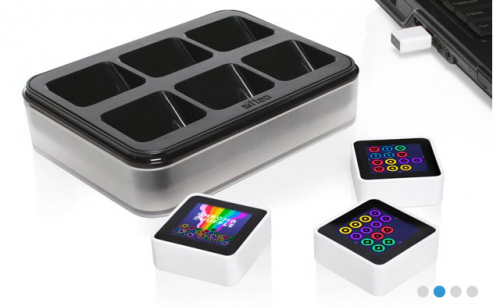 *image taken from the Sifteo website
I could see potential without even touching them!   I ordered a set (they come with three cubes) and they came right away. Within the first day I knew I had to have all six cubes, so I ordered a second to get down to the business of seeing what the full set could really do.
Right now there are not a lot of apps for the cubes, but anyone can download the Sifteo SDK and create their own apps for the cubes.   I think I have found a couple game programmers who are willing to work towards creating some educational apps that I have in mind to reinforce fractions and algebra concepts.   These cubes will be really amazing for math!
I created a short video of some of my favorite apps so you can see  how the cubes work.
If you decide to get a set, please write me and let me know how you plan on using them.