EMBEDDING TEXT BEHIND A LIVESCRIBE PENCAST PDF
Recently I learned how to embed text behind a Livescribe pencast and it has changed everything!
I created a short interactive worksheet to show what can be created with this process.   The following is a screenshot of the text embedded pencast because I cannot embed a PDF file (yet) into a website.   A link to the actual pencast PDF is below the screenshot.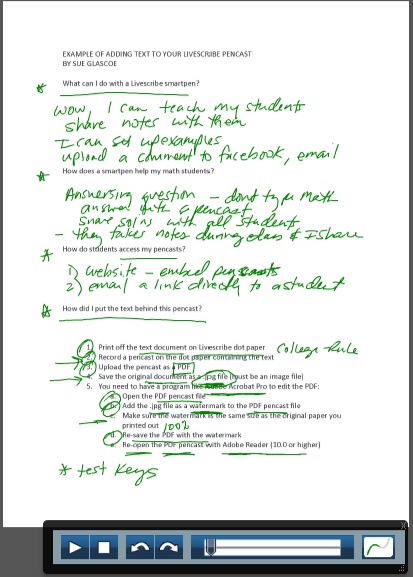 Pencast PDF with text in the background
(you must have Adobe Reader 10.0 or higher to view this interactive PDF)
If that does not work, I put a link on my website for you to click on OUTSIDE of WordPress
(I have some issues with opening PDFs inside WordPress – if anyone can help me to embed
a PDF in WordPress or a website I would really appreciate it!)
As listed in the pencast, the steps to embed the text in the pencast PDF are as follows:
1.  Print off the text file onto Livescribe dot paper (I used college-ruled dot paper in my printer)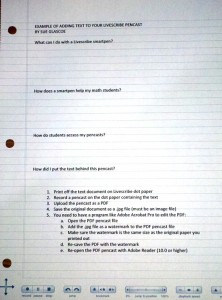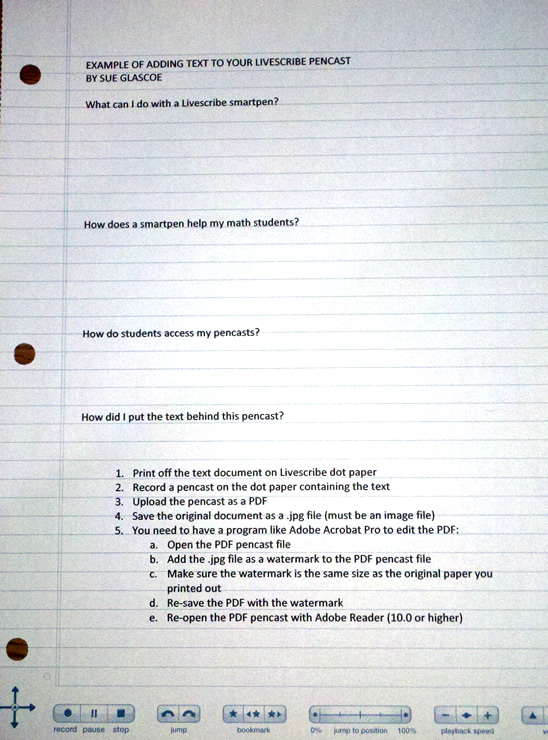 2.  Record a pencast on top of dot paper that has the text printed on it (the text shows you where to write!)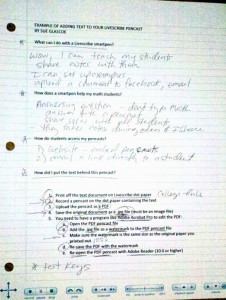 (sorry about the poor photo quality)
3.  Connect your smartpen and upload your pencast as a PDF (use the "Computer" connector)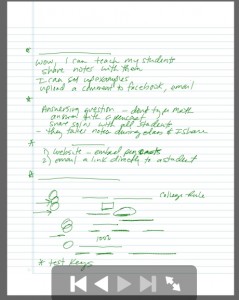 As you can see in this screen shot, the pencast looks pretty strange without the text behind it!
4.  Save the original text document as a .jpg (image file) – to do this you must first save it as a PDF and then you can use Adobe Acrobat Pro or the free online utility Zamzar (www.zamzar.com) to save your PDF as a .jpg file
5.  Open the pencast PDF in Adobe Acrobat Pro or PDF Pro (http://epapyrus.com/en/)  so that you can add a watermark to the PDF file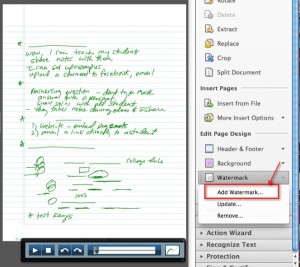 6.  Add your .jpg text file as a watermark to your pencast PDF and re-save the PDF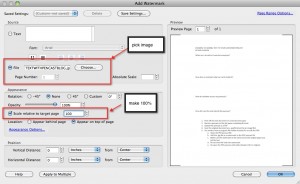 7.  The new pencast PDF can be viewed by anyone with Adobe Reader 10.0 or higher
Please add comments on this blog if you know of other free ways to save a text document as an image file and also if you know of other (especially FREE) programs that allow the user to edit a PDF.
Please send me the projects you make – I would love to see them!